Winton library is a provider of a public library service, offering a welcoming, inclusive and stimulating environment where a love of reading is nurtured, and a place where library users can meet their educational, information and recreational needs.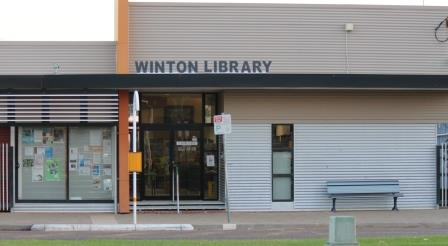 Details:
Street Address
76 Elderslie Street, Winton Qld 4735
Postal Address
PO Box 288, Winton Qld 4735
Phone
(07) 4657 0393
Email
library@winton.qld.gov.au
Opening hours
Monday - Friday: 9.30am - 4.30pm
Saturday: 9.30am - 11.30am
Rural Libraries Queensland
Winton Shire Council is a participant in Rural Libraries Queensland – a collaboration between local councils and the State Library of Queensland to provide high quality public library services to rural Queensland's people.
This partnership not only includes an extensive book collection it also encompasses E-Resources which are accessible to all our members.
Library members can download from home their choice of leisure and learning resources:
Audiobooks
Free Music
eBooks
Magazines
Resources for children including National Geographic Kids.
Family history resources

There is something here for you!
Rural Libraries Queensland Online Catalogue
The Rural Libraries Queensland online catalogue has a range of resources and services available to the 28 participating councils in the network. Library members can request items, renew loans and access online resources. All you require is a current library membership card and PIN number.
How to Join
Membership - Free and is open to all residents.
Returns - Items can be returned to the library in opening hours or via the after-hours return chute.
To access the site please click on the following link Rural Libraries Queensland Online Catalogue.
Further Information
Free Wi-Fi
Free Wi-Fi is available.
Computers
Computers - free of charge.
Printing
Printing, photocopying and scanning are available, fees apply.
First 5 Forever
The Winton Shire Council Library participates with the Universal Family Literacy Program, which is aimed to supporting a stronger language and literacy environment for children and babies (0-5years).
First5Forever is held each Friday morning 10.00 to 11.00am (excluding school holidays).

Workshops and Activities
Watch this space for upcoming events (2021)
Summer Reading Club
Monthly Adult Book Club
Library Club for Kids
Adult Technology Workshops
Forms
Membership Application - Child/Young Person