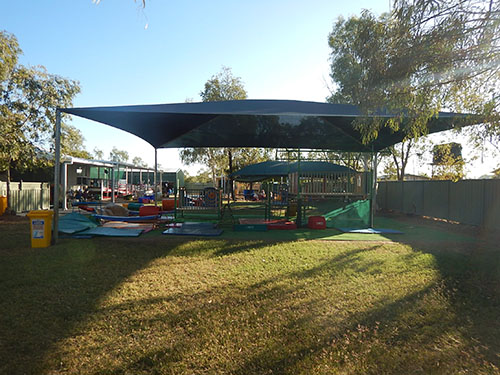 Little Swaggies Child Care supports and promotes access to high quality and flexible early childhood education and child care for children, families and the community. The Centre is a licensed 41 place centre, which operates from 7.30am to 5.30pm five days a week. We have before and after school care for your child as well as holiday care throughout the year.
Within the Centre there are three rooms:
(a) Little Larrikins room, which has 8 toddlers ranging in age from 6wks to 2yrs. There are two qualified/studying educators in this room.
(b) Junior Bushies Room, which has a group of 21 children ranging in age from 2 years to 3.5 years. There are three qualified/studying educators in this room.
(c) Billabong Friends Room which operates a Queensland Government Approved Kindergarten Program for a group of 13 children. The Kindergarten program operates Monday to Friday, 8.30am to 3.00pm, 40 weeks of the year (school terms). There is a qualified Teacher and a qualified/studying assistant.
We have our own cook who cooks nutritionally balanced meals each day (morning/afternoon tea and lunch) for the children at our service.
Little Swaggies Child Care is situated at 47 Cork St, Winton. 4735.
If you have any queries please contact Kristen Williamson, the Director of Little Swaggies on (07) 4657 1522 or forward an email to littleswaggies@winton.qld.gov.au.